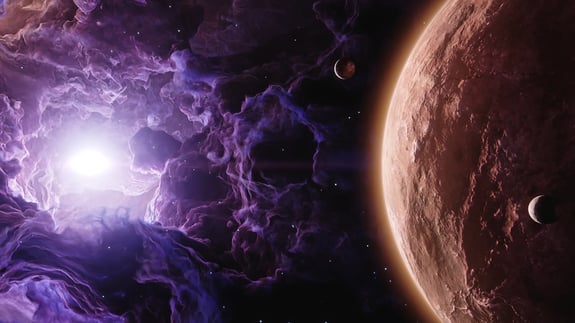 WHAT MAKES CGSI UNIQUE?

HOW CGSI DIFFERS FROM CGS
CG Spectrum Institute is part of CG Spectrum's ongoing evolution, which means that although there are some similarities between the two leading creative industry education providers, there are also some fundamental differences.
CG SPECTRUM INSTITUTE'S KEY DIFFERENCES:
CGSI is registered with TEQSA, and all their creative courses are accredited, meaning students will graduate with a diploma or a bachelor's degree (depending on which exit they take) that is internationally recognised—assisting with future employment and future study.


Students will study a broader range of topics, including film and game practices and processes, as well as creative concepts and principles, providing more contextual content

that expands beyond the practical technical portfolio work.




Formal assessments are part of CGSI's degrees and diplomas and students will be required to complete (and pass) a series of course assessments assigned throughout their studies in order to graduate.


CGSI's accredited courses are longer and more intensive than CG Spectrum's courses but are actually still shorter than most typical degrees—two years instead of three. The bachelor's degrees take two years full-time, and the diplomas take seven months full-time (part-time study options are also available).


FEE-HELP is available for eligible Australian students, meaning they don't have to pay any course fees upfront.


All students will be charged in AUD, including international students (for prospective students in certain countries, the current exchange rates can be to your advantage, allowing you to enrol in an international degree or diploma at a fraction of the price in your currency).


Entry requirements are more formal, similar to any Australian higher education institution. CGSI is registered with TEQSA and must comply with their standards, including entry requirements. (See "What are the entry requirements?" on our FAQ page for more information).


Formal assessments are part of CGSI's courses and students are required to complete (and pass) a series of course assessments assigned throughout their studies in order to graduate.


CGSI does not offer 1-on-1 mentorship, which is an option you can choose if you study at CGS.
COURSE STRUCTURE COMPARISON
Both educational facilities teach students the latest industry-standard software, tools, and techniques. CGSI's curricula mainly differ in the breadth of knowledge that students will ascertain—along with mastering their technical skillset, students also learn vital creative and industry concepts, which are not explicitly included in CG Spectrum's non-accredited courses.
Below is a comparison of what you will learn at CG Spectrum Institute versus CG Spectrum using the concept art major ("Technical Skills" column) as an example.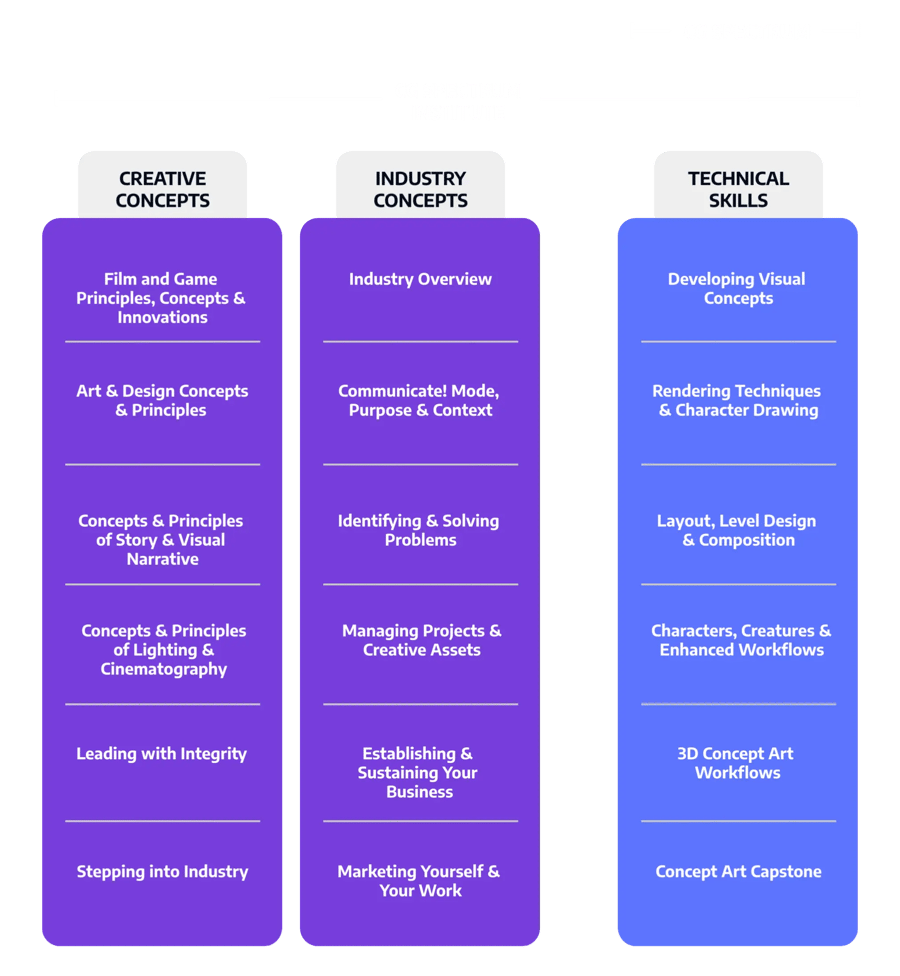 HOW CGSI IS SIMILAR TO CGS
Coming from the same core values and beliefs, CG Spectrum and CG Spectrum Institute both believe in the importance of community and understand the immense value of learning directly from industry professionals. This is where most of their similarities lie.


CG SPECTRUM INSTITUTE AND CG SPECTRUM'S KEY SIMILARITIES:
CGSI students get to join and participate in the same supportive and vibrant online community. With over 4,000 members, the CGS community is a place for like-minded creatives to collaborate, troubleshoot, seek and offer feedback and advice, participate in challenges, and network.


Similar to CGS, CG Spectrum Institute students will work on building technical and creative skills in a specific area within the broader landscape of film and games (at CGSI, this is what a student's chosen major is for, which is treated like a specialisation).


CGS and CGSI share some of the same talented industry experts who guide, support, and educate students in industry processes and procedures, offering unique insights and providing personalised critiques of their students' work. The only difference is that those who teach at CGSI must already hold a higher education certification of their own.


As part of the CGS community, technical assistants (TAs) will also be available online to CGSI students for troubleshooting and any technical queries.


CGSI students will also have access to expert career support, a successful part of CG Spectrum's programs that have helped give students a competitive edge for over a decade! CGSI students also have the added benefit of taking several career-focused subjects that help forge vital interpersonal skills.
WANT TO LEARN MORE? CONNECT WITH US.
If you still have questions, require more information on our degrees and diplomas, or are unsure about admission requirements, contact our helpful course advisors.