The demand for a creative, innovative and entrepreneurial workforce is projected to intensify in the coming years. With this in mind, CG Spectrum Institute's two new accredited courses—the Diploma and Bachelor of Business—have been designed to shape the next generation of resilient, forward-thinking business leaders. And what is one of the key traits of a successful leader? Creative thinking.
We spoke with the Academic Director of CG Spectrum Institute, Baden U'Ren, about how creative thinking gives aspiring leaders and innovators the competitive edge they need to stand out in today's world.
Baden is an entrepreneurship educator and innovation professional, a multiple company founder, and has a background in investment banking and private equity. He has judged the Australian Young Entrepreneur of the Year Awards for more than a decade and is committed to inspiring and fostering rising entrepreneurs.
To hear from Baden and learn more about CGSI, watch the replay of our recent live info session. Baden and Elena Zavitsanos (Head of Admissions) dive into CGSI's new business courses and scholarships and answer frequently asked questions.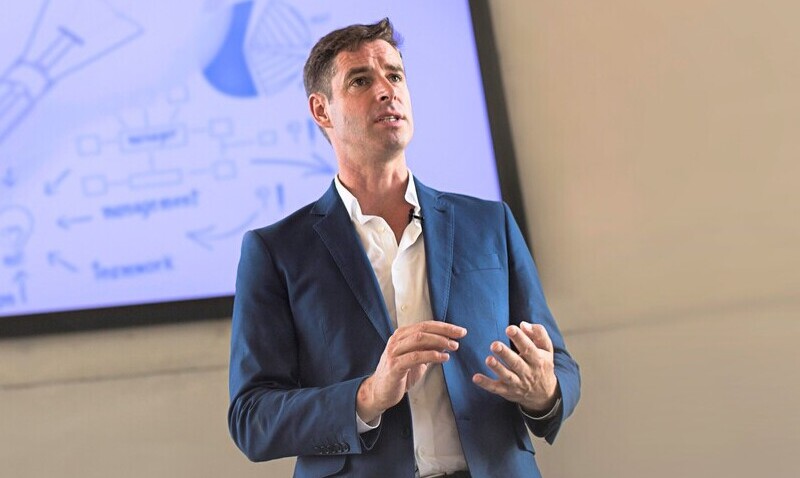 Hi Baden! As Academic Director at CG Spectrum Institute, what are you responsible for?
I have been gifted the opportunity to design and deliver the ultimate business courses for the modern world. I have been searching the globe for the world's most progressive educators who are passionate about teaching a modern degree targeted squarely at forging skilled graduates who are ready for what tomorrow brings.
What do you feel are the 3 most important skills entrepreneurs should nurture to be successful in business?
Entrepreneurship comprises complex ways of thinking, reasoning, and acting. The attributes we focus on developing include:
Creative confidence to drive creative thinking and problem-solving
Transdisciplinary collaboration, to work effectively in cross-disciplinary work teams
Entrepreneurial self-efficacy, to have confidence in one's own abilities and helps to fuel grit and determination
What does 'creative thinking' mean to you, and why is it important for a successful business?
Creativity involves novelty and value creation, so creative thinking is the act of purposefully attempting to improve your actions and surroundings. It is the inception of innovative capability and the foundation of entrepreneurial outcomes.
What do you see for the future of work?
Everything is moving into the virtual space. The fundamental relationship between employer and employee is changing rapidly. Modern workers hold more agency in deciding what, where, and with whom they will work, and this is changing the workplace dynamic.
I see adaptive-learning workers holding a portfolio of work-like positions, collaborating within and across teams and organisations to deliver on projects that hold meaning and impact. This demands fundamental innovation in the organisation of economic activity.
In the 1920s, Frank Knight said: "Entrepreneurs are the Masters of Uncertainty". Can you elaborate on this and share how entrepreneurs can thrive in uncertain or changing times?
Entrepreneurs are the creators of the business world — they imagine what could be done and do something about it.
Uncertainty is a form of risk where the attributes of the risk themselves are unknown. This undermines the assumptions of basic business operations and renders impotent the strategic planning processes of prediction and risk management. Rather, creation becomes the strategic priority, along with all of the capabilities needed to sense, seize, and transform opportunity. This is the superpower of the entrepreneur and the reason we must develop entrepreneurial capability in our workforce.
The advancement of exponential technologies like artificial intelligence, robotics, and quantum computing will continue to drive increased uncertainty, further undermining traditional business practices and giving an advantage to entrepreneurial organisations.
You're a disruptor in the educational space. What is lacking in the way many institutions and courses are run? What is a better approach?
The world has changed, and our education system has not. We are faced with significant challenges, and we must harness the uniquely human advantages of creativity, compassion, critical thinking, and collaboration.
Educational institutions must disenthrall themselves from the status quo and reimagine education to drive the next era of human potential.
CG Spectrum Institute is reimagining education for the modern world. We wanted to create courses that accommodate people's busy lives and different learning styles.
There is more than one way to seek and gain knowledge. Things like two-hour lectures are often not a practical use of one's time, and the examination process is a very blunt tool to assess student learning, which doesn't always translate to real-world skills. Our assessments give students a lot of agency in how they apply their knowledge so they can tailor their work to align with their career goals.
Tell us about the Diploma and Bachelor of Business and why there is a need for these business courses.
We are delivering modern business courses targeted squarely at students looking to enter and advance within vibrant, innovative and growing industries. Our courses:
Are reimagining business education — what a business degree should look like
Create an intersection for the interaction of business acumen and creative capability
Break free of the shackles of a traditional business degree
Help students feel empowered by what their industry should look like
Maintain a job focus
The courses are also accredited, and CGSI is registered with TEQSA (Tertiary Education Quality and Standards Agency), ensuring we meet a high standard of quality.
Who are the ideal candidates for this course?
Our business courses have been designed with three kinds of students in mind:
Business-oriented students wanting to build their creative capabilities
Creatives wanting to develop business acumen
Forward-looking people who want to take control of their future

What types of career paths do the courses prepare graduates for?
The Diploma and Bachelor of Business prepare students for many options and offer a lot of transferrable skills.
Students gain an understanding of business law, finances, marketing, etc., which can be applied to numerous scenarios, whether you want to work for yourself as a freelancer or contractor or for an organisation.
We've also taken into account jobs that don't exist yet. Our courses will still be relevant to these new career pathways because we are looking toward the future as well as in the virtual space.
CG Spectrum Institute's creative business courses cater to three main groups:
Entrepreneurs: people with innovative ideas who want to start their own businesses. Our courses provide solid foundations for these types of entrepreneurs to build thriving and sustainable businesses.
Creatives: those with a creative flair looking to develop business acumen. Graduates will enter the workforce with a dynamic blend of creative and business skills to meet the increasingly in-demand job roles requiring more than just a single skill set.
Business students: more traditional business students looking to distinguish themselves with creative problem-solving capabilities. Graduates will stand out in the job market with future work capabilities not typically developed in a business degree.
What can students expect to learn?
Students will learn the fundamentals of how a business works, empowering them to make better decisions for the success of their organisation.
We offer a Diploma and Bachelor's Degree to help students work towards their goals. Some of the things they will learn include:
Diploma:
Accounting for decision-making
Professional business communication skills
Principles of management
Understanding the business environment

Using Data for decision-making

Marketing foundations
Foundations of entrepreneurship
Business law
Degree:
Ethics, governance, and sustainability
Managing people
Foundations of project management
Creativity and ideation
Strategic management
Digital marketing
Organisational behaviour
Managing conflict and business negotiations
Leadership
Entrepreneurship
Business decision-making and problem-solving
Business model design
Data analytics and business intelligence
Managing organisational change and innovation
Entrepreneurial finance
Applied business project
The eight subjects of the Diploma course are mirrored in the Bachelor's degree, meaning a graduate from the Diploma can move into the Bachelor's course with credits for the first eight subjects of the Degree. They'll need another eight credits to get an Associate Diploma and another eight on top of that to graduate with a Bachelor's Degree. These are excellent opportunities to deepen the foundations built in the Diploma for more advanced work in an organisation.
The Diploma is best suited for people wanting to upskill, and the Bachelor's Degree is excellent for school leavers and those who want a more robust education.
The courses cover Australian law — are these courses only for those wishing to conduct business in Australia? Or can students anywhere apply?
As with other CG Spectrum courses, these business courses are available internationally. The fundamentals are globally translatable, while the subject includes elements specific to common-law legal systems.
For students located in non-common-law jurisdictions, we will recognise comparable subjects as exemptions to qualify for completing our course.
Tell us about the scholarships on offer and what you are looking for in an ideal candidate.
We are proudly offering six scholarships (worth $100,000) for the Diploma of Business and Bachelor of Business in the following three categories:
Excellence in Creative Business Scholarship
Creative First Nations Scholarship
The Creative Trailblazer Scholarship
An ideal candidate will exhibit a creative mindset, an obsession with opportunity, and a natural capability that sets them apart from the average.
---
Kick-start your career with a scholarship! Apply now to join the first intake in February 2023.
Learn what it takes to grow and sustain a successful business and develop creative thinking skills that will last you a lifetime.
Registered with TEQSA, CGSI's accredited business courses are ideal for resilient, forward-thinking individuals ready to disrupt the way things are done and build thriving businesses of the future. Classes are held online and include an expert-led curriculum, mentorship from seasoned entrepreneurs, access to a supportive community, and an accredited qualification.
See scholarship eligibility and application requirements below and apply today. We look forward to welcoming you to class!